BHX Headset Upgraded to Super Sound Performance!
Telme2's award winning BHX headset is now upgraded to Bluetooth v. 4.2. With the best aptX technology included, this headset will now give you even richer stereo sound than before. The improvement is especially noticable in the bass area.
As of beginning of January 2018, our BHX headset is upgraded to Bluetooth Version 4.2.
BHX headset upgraded to BT 4.2 for improved sound performance
This means that the headset will accept - and process - a higher transfer rate.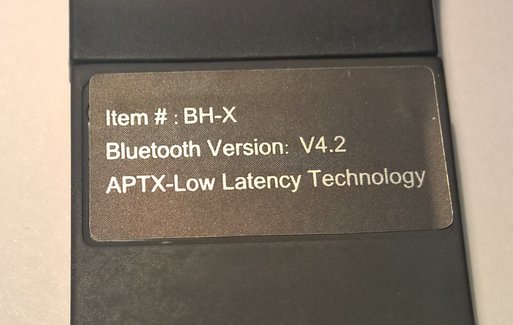 With aptX and BT version 4.2 gives you super TV sound
For you - our customer - this upgrade means:
- Richer sound, especially noticeable in improved bass performance!
At the same time, we have also upgraded our TosBlue-Y unit to Bluetooth 4.0. TosBlue-Y is the unit where you can connect two BHX headsets at the same time.
The unique tvSoundCast has received noticeable improvement for you to enjoy!
The price is kept at the same affordable price.
You may purchase the tvSoundCast here.
Spread the news - tell your friends.
---0---
Updated User Guide
- Remember to charge first. When the red light goes out, it is fully charged.
Short Pairing Guide:
- Set the headset in pairing mode. Press the button until the red and blue lights are flashing rapidly.
- Then turn ON TV with TosBlue unit. After a few seconds, the two units will pair.
Next time - and all the following times – do this:
- Turn the headset ON. Release the button when you see the blue light. The blue light start flashing slowly.
NOTE: Do not set the headset in pairing mode this time!
- Then, turn ON your TV with the TosBlue unit. The units will pair.
You may also watch two animations on our Support Page
Adjust Sound Level:
- Push the + and – buttons for proper sound Level.
To Turn OFF:
Press the button until the RED light comes ON – and then goes out.
NOTE: For conneting 2 BHX headsets to a TosBlue-Y unit, just repeat the steps for the second headset.
To Reset:
If you have problem pairing, try to reset. Do this:
Power ON the headset. The blue light is flashing slowly. Press and hold the "Power ON" button together with Volume - button for 6 seconds, and until you see the blue and red light together for 1 second. BHX has been reset. Then power OFF. Then power it back ON. The headset will now go into pairing mode automatically. (Blue and red light flashing rapidly).
Spread the news - tell your friends